600+ schools all across Nepal are powered by Veda. Clientele
Package
Built for Everyone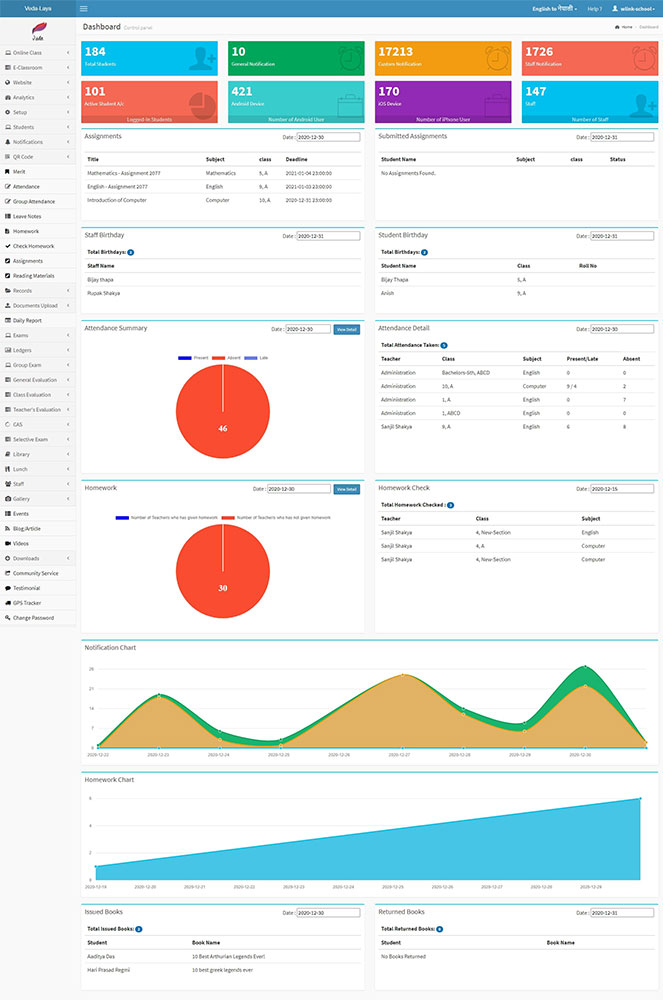 Fast, Secure, and easy-to-learn dashboard to carry out all the processes, manage information, and teaching-learning online.
Cloud-Based Web Dashboard, backed by the world's fastest and most secure servers and technologies.
The user-centric design and hierarchy and grouping of features make it possible for even the users to possess minimal technical abilities to take advantage of in-depth features.
Features
Veda is all you need to auto-pilot your school.
Veda handles every aspect of schools, so you can get back to doing what matters the most – helping students and building their future.
Explore Our Features
Cloud-Based
We use the latest and greatest servers to secure your data.
Simplicity
Our system is designed with ease of use in mind.
Exceptional Support
We have a support team of 15+ members, available 24 hours
Extreme Security
Our system is regularly security audited and has detailed access-level.
Trusted
Why should Veda be your School ERP?
Our unmatched quality of product, top-in-class customer care, industry expertise and constantly evolving knowledge makes us the best school and college software.
Trusted by more than 600 schools and colleges.
99% client renewal rate for more than 5 years
Market leader in 15 major cities in Nepal
Best-in-class after-sales service
Up & Running within 24 hours of contracted date
Digital Learning
Veda MIS & E-learning
Making Online Learning Possible in more than 600 Schools during COVID. We provide Zoom Integrated Online Classes, Auto Attendance, Assignment with annotation, Subjective and Objective Exams, Learning Materials, Online Admissions, and Online Fee payment, all in one platform.
For Your School
Your school is unique, so your software solution should be too.
Veda is tried, tested and trusted by every type of educational institution including private schools, public schools, international schools, montessories and colleges.
Testimonials
Have a look at some of the valuable views on Veda.
Working with TEAM INGRAILS has been so much fun so far. Modification in the software as per the requirements without any hesitation is one of the remarkable assets that the team possesses. The qualities like readiness, softness, and respect to their clients will of course carry team inGrails to the summit.
Damodar Rijal
Incharge - Meridian Intl School, Baluwatar






Frequently Asked Questions
Do you have any questions? Check our FAQ or Help Center
What is Veda ?
'Veda' is a complete School Management and Digital Learning Platform. Veda helps schools to automate daily processes and activities of schools, helps make communication and information sharing among School Administration / Management, School Staff and Parents efficient and cost-effective and helps schools store, retrieve and analyze data generated by different school processes in a centralized and convenient way between.
Is Veda available on mobile phones ?
Veda comes with mobile applications (both in Android and iOS) to connect parents with the school and to ease parents to get all the information on their children and the school. Parents can view all the information (such as online classes, assignments, attendance reports, calendar, progress reports, event notices, assignment reports, bus tracking, billing information, daily routine, exam notice, exam routine, and all other information). Parents can post their feedback, requests, and complaints with the help of this app.
Is there a desktop app ?
Veda doesn't currently have a desktop app, but all the features can be accessed from veda.ingrails.com using a web browser on a desktop computer.
What is the meaning of Veda and how to pronounce it ?
Veda is a Sanskrit term and it means "knowledge. It is written and as वेद in devnagiri and pronounced as vei-duh. tiny.cc/pronounceveda